The Visual Norwegian Dictionary | Your ultimate guide to mastering Norwegian vocabulary with vivid illustrations ✓ Learn more…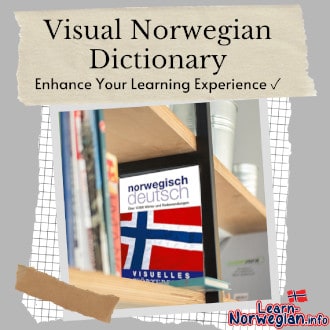 From school lessons, everyone knows visual dictionaries that show a drawing or a photo of the word in addition to the vocabulary. These picture dictionaries are extremely practical and support learning in a visual way. The memory stores not only the letters of the word but also the corresponding object visually. Depending on what type of learner you are, the pictures make learning the vocabulary much easier.
For Germans who want to learn Norwegian, there is such a visual dictionary for the Norwegian language. Unfortunately, there is nothing comparable for "English- Norwegian". But since you want to learn visually, this should not be too important.
The "Visual Dictionary Norwegian-German" from Coventgarden Publishing promises over 12,000 words and phrases in Norwegian and German. The price is 9.95 euros. Here I present you the book once!
Visual Norwegian dictionary – Great way to learn Norwegian words with aractical, handy format
The format of the book is very handy. After a short introduction with explanation and instructions with practical exercises, it also goes directly. The book is well structured.
The following topics are treated one after the other:
the people / mennesker
the outer appearance / utseende
health / helse
the house / hjemmet
services / tjenester
shopping / shopping
food / mat
eating out / spie ute
learning / utdanning
work / arbeid
traffic / transport
sports / sport
free time / fritid
environment / miljø
information / informasjon

At first view, no subject area seems to have been left out. The individual topics also go into great detail (here using humans as an example):
the body / kropp
the face / ansikt
hand / hånd
foot / fot
muscles / muskler
skeleton / skjelett
internal organs / indre organer
reproductive organs / fortplantningsorganer
family / familie
relationships / relasjoner
feelings / følelser
life events / livsbegivenheter
And here now, using the example of the hand, foot and internal organs, the very clear and detailed representation in the visual dictionary: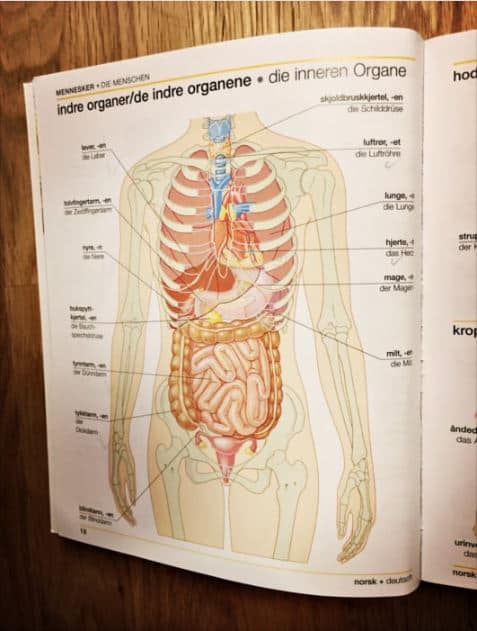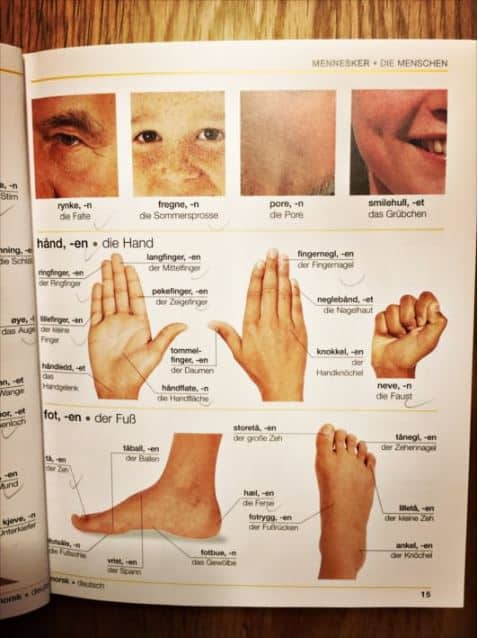 As you can see, this Norwegian dictionary hardly leaves out a topic and goes into depth in every area. Thus, beginners and advanced learners alike should be able to learn and work well with this dictionary. My conclusion is that this book is a helpful addition to learning Norwegian.
Another advantage if you are learning other languages is that Coventgarden has visual dictionaries for more than 15 other languages. The visual dictionaries are all structured in the same way. Thus, one experiences another learning advantage due to the uniform structure.
Advantages of Learning Norwegian with a Visual Dictionary
Learning a new language can be a challenging but rewarding experience. One effective tool to assist language learners is a visual dictionary. When learning Bokmål, utilizing a visual Norwegian dictionary can offer numerous advantages, making the process more enjoyable and efficient. If you learn Norwegian with an online course (e.g. 17-Minute-Language Norwegian or Babbel Norwegian, a dictionary seems old fashiones, but is a great complement.
Vocabulary Enhancement: A visual dictionary allows learners to associate Norwegian words with images, which is an effective way to build a strong vocabulary. The visual representation of objects, actions, and concepts helps to reinforce memory and understanding, making it easier to recall and use new words in context.
Contextual Understanding: Visual dictionaries often provide examples of how norwegian words are used in sentences, giving learners a better understanding of the context in which they are used. This helps to deepen the learner's knowledge of the language and its nuances, ultimately improving their communication skills.
Improved Pronunciation: A visual Norwegian dictionary often includes phonetic transcriptions or audio pronunciations of words, helping learners to accurately pronounce the words they are learning. By hearing and seeing the words simultaneously, learners can better understand the unique sounds of the Norwegian language.
Engaging Learning Experience: The combination of visual and textual elements in a visual dictionary creates an engaging learning experience. This multisensory approach caters to different learning styles, making it more likely for learners to retain information and stay motivated throughout their language journey.
Cultural Insights: Many visual dictionaries incorporate cultural aspects of the language they represent. Learning Norwegian with a visual dictionary can give learners insights into Norwegian traditions, customs, and daily life, thus fostering a deeper connection with the language and its speakers.
Self-Paced Learning: Visual dictionaries allow learners to study at their own pace, ensuring they fully grasp each concept before moving on to the next. This flexibility accommodates different learning preferences and schedules, making it an ideal resource for busy individuals or those who prefer self-directed learning.
About the book and where to get
The combination of pictures and words makes learning Norwegian easier. The approximately 12,000 words and phrases are divided into everyday life topics: People, health, home, services, shopping, food, work, transport, travel, sports, leisure and environment.
The index helps to quickly find the words you are looking for. Ideal for travel, study and work or simply for reference at home.
ISBN: 978-3-8310-9103-4
Price: 9,95 €