Enter the magical world of Harry Potter in Norwegian and improve your understanding of the language. – Read the book for free!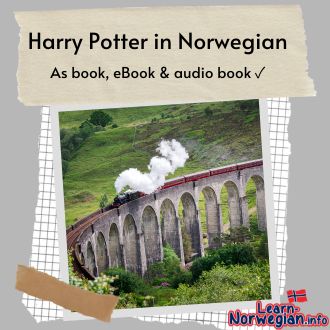 The Harry Potter books, written by the English author Joanne K. Rowling, tell the story of the sorcerer's apprentice Harry Potter, who learns of his magical origins on the day of his eleventh birthday and since then has been a student at the wizarding boarding school Hogwarts. At the boarding school Harry meets not only friends, but also the evil wizard Lord Voldemort and his henchmen.
Harry Potter in Norwegian – how to improve your Norwegian while reading
The Harry Potter series by J.K. Rowling is a worldwide phenomenon. With a total of seven volumes that have collectively sold over 500 million copies, these books have achieved cult status. One of the many translations of these bestsellers is the Norwegian version. And it is this edition that can be an exciting and at the same time educational resource for those who want to learn Norwegian.
The great advantage of the Harry Potter books for learners of Norwegian is their orientation as books for children and young adults. This means that the language used is relatively simple in many passages. Especially for beginners who do not yet have an extensive Norwegian vocabulary, this offers the opportunity to immerse themselves in the language without having to constantly pick up a dictionary. But advanced learners of Norwegian will also benefit from the subtle nuances and more complex passages, and can deepen their understanding of the language.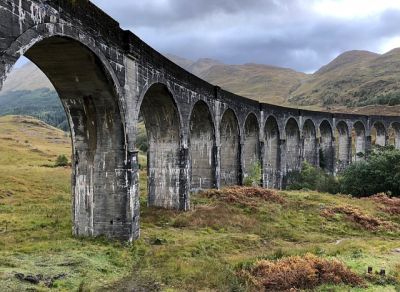 For a long time, getting hold of the Norwegian editions of Harry Potter was a challenge, and many had to resort to imports or other detours. But the good news is that these coveted translations are now available through Amazon. Granted, the physical books are priced at the high end. But for true Harry Potter enthusiasts and those who want to combine their passion for the wizarding world with learning a new language, they are an invaluable investment in their language training.
For those who prefer a less expensive option or appreciate the convenience of e-books, there is also a digital version. This is available to owners of a Kindle or other e-book reader for just 8.99 euros. It's a real alternative for anyone who doesn't want to keep filling their bookshelf or who travels a lot.
If your interest has been piqued, just scroll down a little further. There you'll find a detailed overview of all seven volumes of the Harry Potter series in Norwegian, including more information about each book.
Read Harry Potter in Norwegian 30 days free with Kindle Unlimited trial membership
If you own a Kindle and a Kindle Unlimited membership, you have unlimited access to Harry Potter eBooks and many other Norwegian eBooks at no additional cost. If you don't own a Kindle Unlimited, you can sign up for a 30-day trial membership without obligation and enjoy the Harry Potter books for free during these 30 days.
Click here to sign up for a free Kindle Unlimited trial.*
Harry Potter as a Norwegian audiobook
The audiobook provider Audible has access to a large selection of Norwegian audiobooks. Included are the stories of Harry Potter. The audiobooks can be downloaded to the smartphone, tablet or computer as part of an Audible membership. With the Audible trial membership, you can listen to the Norwegian Harry Potter audiobooks for free for 30 days.
Here you can test the Audible trial membership free of charge and without obligation.*
The Norwegian names of the main Harry Potter characters
You want to know the names of the main characters of Harry Potter in Norwegian? Here you can find the names of the Harry Potter main characters with their German and Norwegian names, including a translation of the Norwegian name back into German:
| English Name | Norwegian Name | Translation |
| --- | --- | --- |
| Harry Potter | Harry Potter | Harry Potter |
| Hermione Granger | Hermine Grang | Hermine Grang |
| Ron Weasley | Ronny Wiltersen | Ronny Wiltersen |
| Albus Dumbledore | Albus Humlesnurr | Albus Humleschnurr |
| Lord Voldemort | Fyrst Voldemort | Fürst Voldemort |
| Severus Snape | Severus Slur | Severus Schlur |
| Draco Malfoy | Draco Malfang | Draco Bösefang |
| Rubeus Hagrid | Rubeus Gygrid | Rubeus Gygrid |
| Sirius Black | Sirius Svaart | Sirius Schwarz |
| Remus Lupin | Remus Lupus | Remus Lupus |
The Harry Potter in Norwegian language
1. Harry Potter og De vises stein
Harry Potter and the Philosopher's Stone
Young Harry learns on his eleventh birthday that he is a wizard. He begins his first year at Hogwarts and discovers the secret of the Philosopher's Stone. Together with his friends Hermione and Ron, he confronts Lord Voldemort.
Get "Harry Potter og de vises stein"on Amazon.*
---
2. Harry Potter Og Mysteriekammeret
Harry Potter and the Chamber of Secrets
Strange things are happening at Hogwarts: students and cats are being turned to stone. Harry discovers clues to the "Chamber of Secrets" and its dark past. With courage and ingenuity, he defeats the basilisk and rescues Ginny Weasley.
Get "Harry Potter og Mysteriekammeret" on Amazon.*
---
3. Harry Potter og Fangen Fra Azkaban
Harry Potter and the Prisoner of Azkaban
Sirius Black, a dangerous wizard, has broken out of Azkaban prison and is pursuing Harry. But not everything is as it seems. Harry discovers the truth about his family and the real story behind Sirius' betrayal.
Get "Harry Potter og Fangen Fra Azkaban" on Amazon.*
---
4. Harry Potter og ildbegeret
Harry Potter and the Goblet of Fire
Harry is unexpectedly chosen as the fourth contestant in the dangerous Triwizard Tournament. As he struggles through the dangerous tasks, Voldemort plots his return. A shocking ending awaits Harry as he comes face to face with the Dark Lord.
Get "Harry Potter og ildbegeret" on Amazon.*
---
5. Harry Potter og Føniksordenen
Harry Potter and the Order of the Phoenix
The Ministry of Magic denies Voldemort's return and discredits Harry and Dumbledore. At Hogwarts, Harry secretly trains "Dumbledore's Army." The end result is an epic battle at the Ministry and the tragic loss of Sirius Black.
Get "Harry Potter og Føniksordenen" on Amazon.*
---
6. Harry Potter Og Halvblodsprinsen
Harry Potter and the Half-Blood Prince
Harry discovers memories with Dumbledore that reveal Voldemort's past and weaknesses. The relationship between Harry, Ron and Hermione is put to the test. The book ends with the death of Dumbledore and Voldemort's growing power.
Get "Harry Potter og Halvblodsprinsen" on Amazon.*
---
7. Harry Potter Og Dodstalismanene
Harry Potter and the Deathly Hallows
Harry, Ron and Hermione are on the search for the Horcruxes to defeat Voldemort. A final battle breaks out at Hogwarts against Voldemort's forces. The end brings sacrifice, triumph and the final confrontation between Harry and Voldemort.