The Visual Norwegian Dictionary | Your ultimate guide to mastering Norwegian vocabulary with vivid illustrations ✓ Learn more…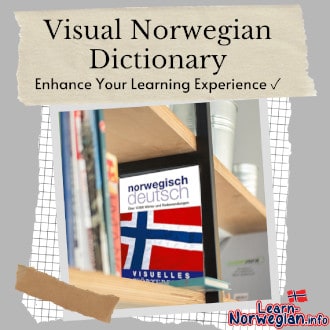 From school lessons, everyone knows visual dictionaries that show a drawing or a photo of the word in addition to the vocabulary. These picture dictionaries are extremely practical and support learning in a visual way. The memory stores not only the letters of the word but also the corresponding object visually. Depending on what type of learner you are, the pictures make learning the vocabulary much easier.
For Germans who want to learn Norwegian, there is such a visual dictionary for the Norwegian language. Unfortunately, there is nothing comparable for "English- Norwegian". But since you want to learn visually, this should not be too important.
The "Visual Dictionary Norwegian-German" from Coventgarden Publishing promises over 12,000 words and phrases in Norwegian and German. The price is 9.95 euros. Here I present you the book once!