Learn Norwegian the fun way with Mondly – your personal tutor for effective and flexible learning anywhere, anytime. [REVIEW]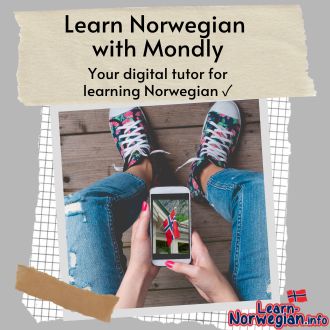 We all dream of learning a new language, whether it's for travel, business meetings, or just out of curiosity. But how many times have we failed because of outdated learning methods or boring lessons? Fortunately, technological innovations have revolutionized the way we learn a new language, and one app stands out in this regard: Mondly. With Mondly, you can learn Norwegian in a fun way and in no time.
Learn Norwegian with Mondly – A universe of languages in your hand
Mondly is a mobile and web-based language learning platform that is already used by over 100 million people worldwide. Here you can learn not only Norwegian (Bokmål), but also one of a total of 41 different languages – all directly from your native language. You will find such a variety in only a few other providers.
Mondly is specifically designed to give you fluency in a fun and innovative way. With over 2,500 daily lessons, 300 bite-sized lessons on everyday topics, and more than 50 real and simulated conversations, Mondly prepares you to speak and understand Norwegian. Dive into the exciting world of language learning and discover how quickly and effectively you can learn Norwegian.
Did you know that you can use a whole lot of Norwegian lessons for free at Mondly? Risk-free and without giving your personal data! Give it a try!

Learn Norwegian – Anytime, Anywhere
Whether you're on the bus, shopping, or relaxing at home, the Mondly app lets you learn Norwegian wherever and whenever you want. Thanks to the innovative Hands-Free feature, you can even improve your language skills while cooking or exercising. Mondly is a mixture of Norwegian app and Norwegian online course.
A special highlight is the first-class chatbot with speech recognition. With it, you can have real Norwegian conversations from the comfort of your home or workplace and practice speaking and understanding Norwegian in real-life situations. The Mondly chatbot teaches you how to speak and understand Norwegian in real-life situations, making learning a fun and effective experience.
An award-winning app for learning Norwegian
Mondly has already received numerous awards and positive reviews. For example, it was named "Germany's Best Online Portal 2019" in the language learning category by DISQ and has been used by over 100 million people around the world.
Thanks to its user-friendly interface and innovative learning methods, Mondly has been awarded an outstanding 4.7 out of 5 stars in both the App Store and Google Play.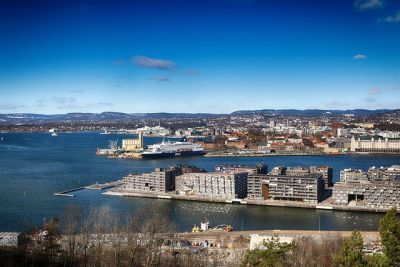 Your language learning trip with Mondly
With Mondly you have the opportunity to learn Norwegian in an exciting and effective way. Your complete language learning journey includes:
The ability to choose from 41 languages, including Norwegian, and learn them directly from your native language.
Lessons at beginner, intermediate and advanced levels.
Grammar lessons, vocabulary trainers and conjugation tables to improve your Norwegian grammar skills.
Over 2,500 daily lessons to reinforce your knowledge.
Real-life lessons on real-life topics.
A "Hands-Free" feature that allows you to learn Norwegian on the go.
A chatbot with world-class speech recognition for real conversations in Norwegian.
Crystal clear audio and professional speakers to teach you Norwegian pronunciation.
An efficient way to learn Norwegian
Mondly offers you an efficient and fun way to learn Norwegian. Rather than focusing on memorizing Norwegian words, Mondly encourages language learning through real conversations and the use of words and norwegian phrases in context.
This conversational approach not only encourages you to speak Norwegian, but also gives you direct feedback on the accuracy of your pronunciation. This way, you can feel confident when applying what you've learned in real-life situations. With Mondly, language learning becomes a lively and fulfilling experience.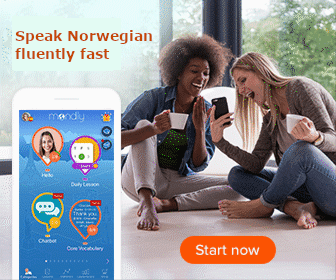 –> Start your first free Norwegian lessons right now and get the most out of the latest discounts.* <–
Awards and achievements of Mondly
Mondly is not only popular with users, but has also received a variety of awards and recognitions:
Used by over 100 million people worldwide.
Highly rated in the App Store and on Google Play.
Awarded by DISQ as "Germany's best online portal 2019" in the language learning category.
Awarded the Facebook title "App of the Year" for EMEA.
Mentioned by media such as INC.com, Forbes.com, Bloomberg.com and Huffington Post.
Learning a new language can be challenging, especially if you don't have the opportunity to interact with native speakers on a regular basis. That's where Mondly comes in: the app acts as your personal language tutor, available to you 24/7. It provides an interactive and personalized learning experience that tracks your progress and helps you achieve your goals.
Mondly is not only a place where you can learn new vocabulary and grammar, but it also allows you to practice your skills in a safe and supportive environment. You can have dialogues where you use the new expressions you've learned, and you'll get instant feedback on your pronunciation and grammar.
Mondly: Your key to learning Norwegian
Learning Norwegian has never been easier than with Mondly. Mondly's innovative language app quickly turns you into a native Norwegian speaker. Instead of focusing on memorizing vocabulary, it uses state-of-the-art speech recognition and a conversation-focused curriculum.
Mondly makes learning Norwegian easy
Mondly uses state-of-the-art speech recognition to listen to your words and phrases and respond with positive feedback when you pronounce them correctly. The MondlyAR app for iOS and Android lets you immerse yourself in the action using augmented reality.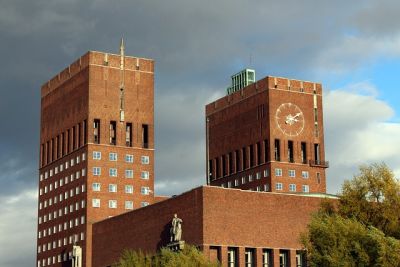 Improve your pronunciation with Mondly
Mondly's advanced speech recognition technology lets you make sure you pronounce every word correctly. This feature allows you to improve your pronunciation by listening to the correct pronunciation of words and phrases and then repeating it yourself. The app will then give you instant feedback on whether you got it right or not.
Learn Norwegian anywhere, anytime with Mondly
One of Mondly's greatest strengths is its flexibility. You can access the app from your smartphone, tablet, or computer, so you can learn anytime, anywhere. Whether you're on your way to work, on your lunch break, or before bed, Mondly lets you improve your Norwegian when and where it's convenient for you.
Whether you want to learn Norwegian for work, school, vacation in Norway, or just for fun, Mondly gives you the tools and resources you need to succeed. With Mondly, learning Norwegian is interactive, fun, and effective. Start your language learning journey with Mondly now!